Uttar Pradesh, India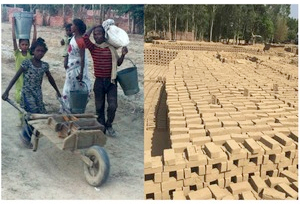 On May 23, 2016, in our largest rescue to-date, JVI partnered with local government authorities and People's Vigilance Committee on Human Rights (PVCHR), to secure the freedom of 207 bonded labor victims from a brick kiln in the Indian state of Uttar Pradesh.
The laborers, all severely malnourished at the time of the rescue, had suffered terrible abuse at the hands of the owners. They were made to work long hours even when ill or pregnant and denied their rightful wages. Requests for rest, more food or proper wages were met with vicious beatings from the owners. None of the 113 children on-site attended school; instead, children as young as three to four years of age, were given grueling tasks to do at the kiln.
Following submission of a complaint prepared by JVI and PVCHR, the rescue was ordered by the local District Magistrate.  All of the laborers have been repatriated back to their home villages in the neighboring state of Bihar. JVI is now working with its local partners and the government to ensure all of the survivors receive back wages and rehabilitation assistance and that the perpetrators are properly charged and prosecuted as mandated by India law.
This rescue operation reflects the Uttar Pradesh state government's increasingly firm stance in fighting human trafficking following a series of training and advocacy efforts over recent years by JVI and its partners.  This rescue operation originated from JVI's work on an agricultural bonded labor rescue operation in Bihar back in 2014. When one of the laborers, Shyam*, died at the brick kiln due to overwork and malnourished, his remains were sent back to his Bihar village. His cousin who had been set free from bonded labor during that 2014 rescue immediately contacted one of JVI's local partners to alert them of his cousin's death and the plight of the indentured families in the Uttar Pradesh brick kiln.
For millions of bonded laborers, organizations like JVI and its local partners are their only hope. Please stand with us as we work to bring new freedom to many more men, women and children trapped in slavery.
*Names have been changed to protect identities.
This work is funded in part through the generous support of IJM. All content and images are the property of JVI © 2016.