He has sent me to proclaim release to the captive…to set free those who are oppressed, to proclaim the favorable year of the Lord.
Luke 4:18-19
DEAR FRIENDS,
As we bring another fruitful year to a close, I'd like to thank you for partnering with us in serving those suffering from extreme injustice. Through God's power and the generous support of people like you, JVI has seen thousands of men, women and children freed from abuse and empowered to fight oppression. While time and space will not permit a complete recap of all of those events, I thought I'd share just one amazing story of freedom and hope with you.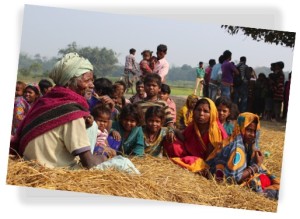 Earlier this year, JVI was instrumental in securing the rescue of 186 men, women, and children from bonded slavery in the Madhubani District of India, near the Nepal border (see inset photo). Many of these families had been trapped in oppressive agricultural slavery for three generations, forced to live in tiny one-room open-air huts, paid with only enough rice to survive, and made to work long hours under the blazing sun.Following their rescue, JVI lawyers ensured that criminal charges were registered against the perpetrators and legal proceedings are underway.  JVI and its local partner have helped survivors obtain vital government rehabilitation funds, open bank accounts, enroll in vocational training programs and secure new job opportunities for decent wages.  Children, who previously toiled in the fields alongside their parents, now attend school for the first time in their lives.  This road to freedom has not been an easy one and there are many challenges still ahead.  But these families have moved from a life of desperate misery, fear and danger to one of freedom and hope.  As Sunil,* (above picture) one of the survivors, shared, "We are now free from bondage…we are grateful to those who have helped us."
Will you help bring rescue and opportunity to others like Sunil and his family? Your gift allows JVI to bring freedom, justice and restoration to victims of slavery and other forms of extreme injustice in India and China.
Contribute online at www.justiceventures.org or
Mail a check payable to:
Justice Ventures International
P.O. Box 2834
Washington, DC 20013-2834
Thank you for your consideration. May the God who brings freedom bless you and your family richly during this holiday season and in 2016.

Warmly,
Jeffrey R. Pankratz,
President & CEO
*Sunil is a pseudonym.