Delhi, India – As afternoon fades, hundreds of chattering schoolchildren make their way home down the narrow by lanes of Bharampuri, a neighborhood in North East Delhi. In stark contrast, toiling in some of the unregulated small businesses that dot the neighborhood are hundreds of child laborers whose day is nowhere near ending. Forced to work for up to 10 hours a day in squalid and often toxic conditions, these children receive much less than the minimum wage for their labor. Enslaved at a young age, many spend their childhood as cheap bonded labor for these flourishing businesses.
On February 18, 2016, four of these slaves found freedom thanks to a rescue operation led by the Delhi District Administration with assistance from JVI and a JVI local partner. One of the victims, a 13-year-old boy, was rescued from a metal workshop where he made belt buckles for a living. The other three were rescued from a soot-covered and airless halogen light workshop. In fact, when the rescue team entered the workshop, it was full of black fumes and covered in black soot.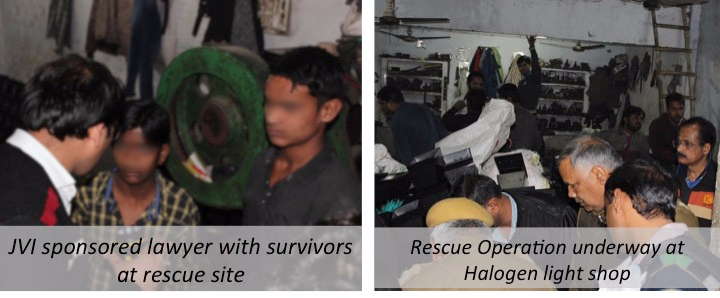 The eldest survivor, now an adult, has been restored to his family. The three children are currently housed in a shelter home in Delhi.
Children Granted Legal Identities
In a first for a case of this kind, the Child Welfare Committee directed the shelter home to enroll the children in the Central Government's Unique Identity Aadhaar program. Under this program, each child will receive a unique identification number, a legal form of identification which will enable them to access government subsidies and other welfare schemes. Further, all four victims were legally declared bonded laborers and will obtain release certificates entitling them certain benefits. JVI will work with the district administration to ensure the rehabilitation of these victims and the recovery of their wages.
Perpetrators Booked and Fined
A formal criminal complaint has been filed against the owners of the businesses under key sections of the Child Labour (Prohibition and Regulation) Act, the Bonded Labour (Abolition) Act, the Indian Penal Code, and the Juvenile Justice Act. In addition, the Sub-Divisional Magistrate, directed the State Power Supply Company to disconnect power supply to the halogen light workshop and fined the owner Rs. 50,000 for violation of environment laws as per rules and regulations of the National Green Tribunal.

The learning from this rescue will help JVI and its partners identify and target more of these small businesses that are exploiting vulnerable children and adults by forcing them into bonded labor.
All content and images are the property of JVI © 2016.