Northern India
On January 30, 2018, Justice Ventures International (JVI), together with a partner organization, local government officials, and police rescued 63 bonded labor victims from a brick kiln located in Haryana, India.
A lack of employment opportunities can often leave entire families vulnerable to exploitation from traffickers who prey on those facing extreme poverty. Using empty promises of fair-wage jobs and reliable incomes, traffickers are able to lure families and individuals into long-term slavery through coercion and deception.
As in the majority of bonded labor cases, the working and living conditions at the brick kiln were brutal. A typical work day would exceed 16 hours, resulting in only 42 cents per day being paid in wages. If anyone dared to question the amount of wages or seek permission to leave the premises, the response would be threatened or even actual violence.
The children were forced to work alongside their parents rather than being allowed to attend school. They also were denied access to food, shelter, and proper clothing. In one case of extreme cruelty, a child who fractured his shoulder while working was not allowed to seek medical attention.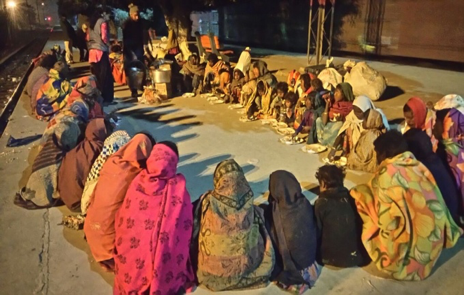 Thankfully, one of the laborers found a way to reach out to EFICOR, JVI's local partner organization. JVI and EFICOR together immediately began collaborating to plan the rescue intervention.
On the day of the rescue, the employers attempted to spirit away the victims to another location, threatening them with violence if they testified against them. However, the victims courageously stood their ground and provided a full account of their ordeal to the authorities once they arrived.
At the end of the day, with JVI and EFICOR by their side, 24 adults and 39 children were transported to the local train station, carrying everything they owned in the world, to begin their new journey on the path to freedom.
JVI aftercare staff and partners will work with families for the next 24 months to ensure their sustained freedom while our lawyers work with the police and prosecutors to see that the perpetrators are held accountable. 
All content and images are the property of JVI © 2018.