On 6 February 2014, 34 children were removed from bonded labour conditions in various facilities in Old Delhi, on the action of the Senior District Magistrate (SDM) and his officials, officers from the District Police and Labor Department, and representatives of Justice Ventures International and Salaam Balak Trust, a JVI justice partner.  The laborers were all boys between 9 and 17 years old; 30 belonging to rural districts of Bihar, and four from Uttar Pradesh.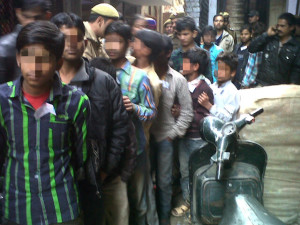 The boys had been forced to work in hazardous conditions making caps, lunch-boxes, and waist belts. They had restricted freedom of movement even within the facility and reported receiving little or no wages in return for hours worked.  Having examined the boys' working conditions and statements, on Wednesday the Magistrate declared all 34 boys to be rescued bonded laborers and issued them release certificates. A process is now under way to secure access for the boys to welfare schemes provided by Central and respective State Governments.  These survivors of bonded labor are free due to the timely intervention of Delhi government officials and can look forward to a new journey of restoration. Please pray for their protection and rehabilitation.
*This rescue was conducted under the Google Interventions Project (GIP) with  support from the International Justice Mission (IJM).
All content and images are the property of JVI © 2014.