Uttar Pradesh, India
In March, JVI and one of its local partners collaborated with the National Human Rights Commission (NHRC), local government officials and police to secure the freedom of 149 bonded labor victims from two brick kilns in the Indian state of Uttar Pradesh.
The families were severely malnourished and suffered physical abuse by the owners. They were lured from another state into a life of slavery by traffickers promising a better future. But one of the laborers contacted a JVI partner organzation and asked for help. Together JVI and its partner carefully documented the case and submitted it to government authorities.



Men, women and children were forced to work more than eighteen hours a day under grueling conditions. They were not allowed any medical care, and received bare rations of rice and potatoes for only two meals a day. Moreover they were denied minimum wages. At night the families lived in tiny mud huts with no doors.  Living all day exposed to the elements, many of the women and children were found to be sick.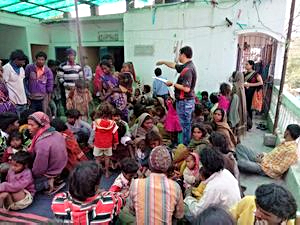 On the day of rescue, the families were very emotional and begged to be rescued. JVI and its partner organization worked with local officials to remove the families from the kilns, and arranged transportation for them to return to their home state. The rehabilitation of the survivors has begun and JVI is working with authorities to pursue the criminal prosecution of the brick kiln owners.
 All content and images are the property of JVI © 2017.