JVI Wins Opportunity Fund Competition with World Justice Project
On April 22, 2013, World Justice Project announced that Justice Ventures International (JVI) was one of the winners of the Opportunity Fund Competition.  The Opportunity Fund is an initiative designed to incubate practical programs that strengthen the rule of law.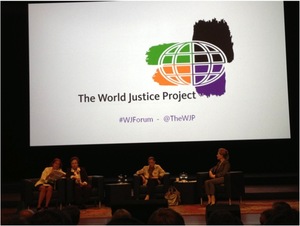 JVI submitted the China Migrant Justice Project (MJP) for this competition. The MJP focuses on educating migrant workers about their legal rights and building a network of pro bono (volunteer and reduced fee) legal services to assist migrant workers in legal matters.
China's internal migrant workers are estimated to be over 200 million and likely to increase to 500 million by 2020. These workers are discriminated and exploited from legal services, healthcare, housing, decent employment and education for their children due to their lack of knowledge and education. Through education the MJP endeavors to empower these Chinese citizens to receive much needed services.  MJP will conduct training programs for migrant workers, family members and even the NGOs serving migrants. MJP will also collaborate with the Beijing Legal Aid Office and set up legal services for the migrants. From this project, MJP desires a considerable long-term impact to expand this model to other cities across China.
http://worldjusticeproject.org/blog/meet-winners-our-opportunity-fund-competition
Image: The panel at World Justice Project included US Supreme Court Justice Ruth Ginsberg.