As each has received a gift, use it to serve one another, as good stewards of God's varied grace: 1 Peter 4:10 ESV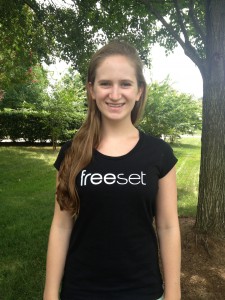 Leah Day is a high school graduate, and active JVI volunteer. This is her testimony:
"My journey with JVI began when I met Sara, a JVI employee, through a family friend. We ended up talking about both her work and my passion with human rights and social justice. As our conversation rapidly pulled out the passionate characteristics in each of us she invited me to get involved with JVI as a volunteer for the Shop for Freedom campaign. I began selling Freeset bags at local community functions and within my high school as a representative of Dominion High School's Global Ambassadors club. Volunteering to sell Freeset bags was an easy decision for me because there are really no downsides to this opportunity. JVI allows for 30% of the profits from the bags I sell to be given to my service project with Global Ambassadors. Part of the club's mission is to serve the global community. This year I am serving as service chair and leading a project with El Refugio to help the at-risk youth of Jaco, Costa Rica. By volunteering I can not only raise funds for El Refugio but also support JVI and Freeset's mission to bring fair and safe economic opportunities to those in oppressed situations, all while selling adorable bags! My involvement with JVI has allowed me to see how simple inquiries can lead t0 amazing opportunities as well as to learn first hand business strategies and selling tactics. In addition I have been able to form connections with members of the JVI team who have been nothing but helpful."
Consider joining Leah and the rest of our Shop For Freedom team to fight human trafficking. Freeset bags and tees, and Starfish jewelry allow you to start conversations and raise awareness about human trafficking in our world. Together we can empower rescued women to live in long-term freedom. In addition, consider using your talents, experiences and connections to help JVI on other volunteer projects.
Current JVI Volunteer Projects
To review a list of currently available volunteer projects, click here. JVI has volunteer opportunities in the areas of content creation, research, design, legal, sales, network & mobilization, administrative and special projects.
Email us at volunteer@justiceventures.org with your interests and questions and we would love to connect with you