Delhi, India
On April 29, 2015, 14 children were freed from four different urban establishments in Delhi, India, where they labored up to 18 hours a day in dimly lit rooms making bindis (cosmetic forehead decoration).  All the children were boys, with the youngest only 9 years old, and the eldest being 17.  One child was also forced to work as a domestic servant, having to make bindis through the day and then do even more work in the evening such as slicing vegetables.  These boys were trafficked from Bihar, India, and were paid well below minimum wage in exchange for their labor.


Despite thorough planning and careful execution of the rescue, things turned dramatic when some of the boys suddenly tried to escape because their employers/captors ordered them to run. "We noticed [a] few children running to the terrace in order to run away. These little boys jumped down several feet to another building as directed by their employers.  As the rescue team caught up with them, they found two boys huddled with fright under a blanket with child-like innocence trying to hide. However, we were successful in safely bringing all the children together," stated a lead government official.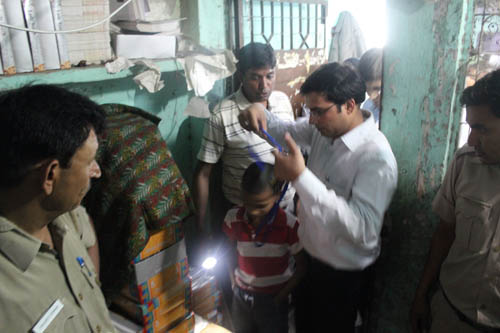 The boys were taken to a shelter home for minors under the care and protection of the Child Welfare Committee (CWC).  "This is, indeed, an inexorable situation where, despite much awareness and laws that exist to protect children, such incidents continue to occur.  We spoke with all the children and they are so unhappy. They are forced to work while they want to play and study,
"
remarked a CWC official.
Government officials promptly sealed all four bindi manufacturing facilities, and the local police began the process to register First Information Reports under the Indian Penal Code, Juvenile Justice Act, Bonded Labor Act and Child Labor Act.  This rescue was led by a collaborative team comprised of officials from the local Police, Delhi Labor Department, Salaam Baalak Trust (SBT) and Justice Ventures International (JVI).
*This rescue was conducted with the generous support of IJM under the Google Intervention Project.
All content and images are the property of JVI © 2015.