"The pavement of a busy street in Old Delhi was my bed. I slept outside the shop where I worked.  Every day, I lay down parched and sapped of energy.  I had no hope of escape.  After all, who would want to start his day with verbal lashes and threats to his family?  So we worked, ate, and slept around the shop." – Arijit
Arijit came to Delhi in 1992 with his uncle Ram Charan having been promised a better life.  Instead the men were sold into bonded labour.  They were released in February, after working for 22 years.
A journey into bondage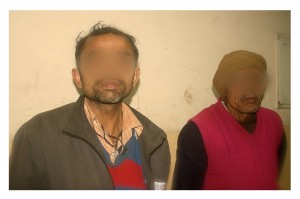 Arijit and Ram Charan are from Chhatrapur, Madhya Pradesh.  Arijit was only fifteen when he accompanied his uncle to Delhi.  Until that time he and Ram Charan had worked together on odd jobs as daily wage labourers, earning Rs. 30-40 per day to cover their personal expenses and support their families.  Arijit was a joyful teenager.  He used to daydream.  He had a vision for his life, and he went to school every day hoping to achieve it.
Arijit could not have foreseen the turn his life was to take.  One day, Ram Charan met a stranger who promised him and Arijit a dream, and money.  "You're a very hard working person," the man said.  "Come with me to Delhi. We'll find you a good job."
Arijit and his uncle left their land with the man, and nothing in their lives was ever the same.  A fateful train journey and bus ride brought them to a crowded market and to their new employer, a seller of pan leaves received daily from other states.  They were quickly oriented to their new job.  Each was given an advance of Rs.2000 and asked to put his signature on a blank piece of paper.  Then their monthly salary was fixed at Rs.1200, far below the minimum wage.
Workers at the pan shop were responsible to sort pan leaves by size and colour, forcing them into a hunched position for up to 12 hours per day doing repetitive manual labour.  They also had the heavy task of carrying 50-70 kilogram sacks of leaves for door-to-door delivery.  The employer drove them hard, giving them only occasional breaks to eat.  Back pain was a constant struggle.  Arijit and his uncle felt as if they were being treated as animals.
Strangely, rather than gradually decreasing, after some time the debt Arijit and Ram Charan owed their employer had increased to Rs.100,000.  Something was clearly wrong, but the men were unable to act.  They had grown to fear their employer.  The men had signed documents they knew could be used against them.  Because questioning the situation or rebelling against their employer could bring harm to their families, Arijit and his uncle continued working.
The men worked in the pan shop for 22 years.  Ram Charan was 35 when he came to Delhi.  His father and mother both passed away while he was in the city, but he was not allowed to leave even to mourn their deaths.
By 2012, Ram Charan's strength was gone.  He had lost hope and appeared physically to be close to death.  Realising a death outside the shop would draw needless attention, the employer pushed Arijit and his uncle to move into rented accommodation.
 Freedom restored
In 2013, Arijit and Ram Charan attended an awareness programme close to where they lived.  The programme addressed the issue of bonded labour.  For the first time, the men understood that they might be able to escape their situation.  Arijit and his uncle met volunteers from the Mahila Haat, a Justice Ventures International (JVI) Project partner, and were shown genuine concern.  Hope that had been lost began to revive.
On 6 February 2014, Arijit and Ram Charan were rescued from the pan shop on the action of Delhi police and labour officials, Mahila Haat staff, and JVI Project.  On examining their case, the Senior District Magistrate declared them released bonded labourers and issued them Release Certificates, officially absolving them of all debts and bondage.
Arijit and his uncle will return to their home and a new life with the support of the Madhya Pradesh and Central Governments.  Their former employer has been ordered to pay them the wages owing for 22 years of underpaid labour and will face further legal redress.
"Today, I am safe and at peace.  I woke up in the morning with a new dream for my family," said Arijit.
A long journey of restoration has begun.
Pseudonyms have been used to protect the identity of the survivors.
*This rescue was conducted under the Google Interventions Project (GIP) with the support of the International Justice Mission (IJM).
All content and images are the property of JVI © 2014.