Haryana, India
September 9, 2016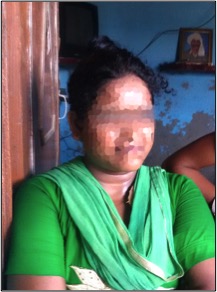 Reena*, a 16 year-old girl, who was trafficked from a village in Murshidabad, West Bengal and forced to marry a 30 year-old man in Haryana was rescued on September 5, 2016. The rescue was conducted through a joint operation with Justice Ventures International and its local partner along with local police and federal authorities.  Reena's parents were initially approached by two marriage brokers in March 2016  who were immediately turned away. But a couple of days later, she was kidnapped on her way from school and taken to Haryana to be married to the 30-year-old man.
Reena's parents immediately suspected the marriage brokers and filed a police report, and also approached a local JVI partner in July 2016. At the same time Reena contacted her family multiple times on her husband's cellphone. JVI worked with local and federal government to locate her in a village in Haryana, close to Delhi, and rescued her on September 5,2016.
Reena was transferred to a safe shelter home for rehabilitation and counseling, and will return to her family in Murshidabad. Both of the marriage brokers have been arrested, and legal proceedings against the perpetrators have been initiated.
Haryana, a state in Northern India, is among the lowest sex ratio (879 females per 1000 males) in India.  Years of sex-selective abortions have led to a dearth of brides in Haryana.  This shortage of females has led to a disturbing social pattern of 'importing' brides, fueling the trafficking of women for forced marriage.  Girls, including minors, are trafficked from different parts of the country, forced into marriage, often to men up to twice their age, and then sexually exploited and used as unpaid laborers.
*Name changed to protect identity of victim.
 All content and images are the property of JVI © 2016.