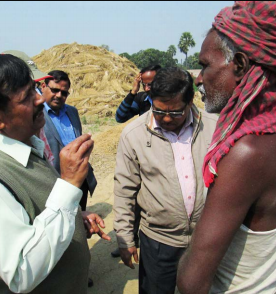 On 23 February 2013, JVI's team and partners supported the government to secure the official release of three (3) men from bonded labor in three separate agricultural facilities in the North Indian state of Bihar. As bonded laborers, these men suffered under inhuman working conditions. Forced to work 15-hour days, 7 days a week, they were paid well below the minimum wage (one laborer was not paid any wages at all, receiving instead a meager quantity of rice and occasional meals for his work). One of the men was working to pay off a Rs.10,000 (US $180) loan taken by his grandfather. Now an old man himself, the victim was the third generation bonded by the same debt. Unable to leave the facilities without permission and restricted from finding other work, the men were trapped until the Bihar government intervened.
The rescue was conducted through the excellent efforts of the government administration, labor department task force, and the police. Throughout the day, government official in charge of the rescue ensured that the victims were treated with care and respect, and that the inquiry and release process was conducted according to the law. All three victims received official government release certificates that same day. A police report has been filed in the case, and our lawyers/partners are now working with the government to prosecute the perpetrators and to ensure holistic rehabilitation for the survivors and their families. Each of the survivors is the head of a family. By securing freedom for these three men, the government helped ensure better life for three families. A total of 16 dependents (wives and adult or minor children of the survivors) will be impacted by the three release certificates issued on February 23rd.
INVEST IN FREEDOM: This month, JVI will work with our partners to support government-led rehabilitation for the survivors of the February 23rd rescue. If you would like to learn more about how you can help bring restoration to these families and others like them please visit us at www.justiceventures.org.
*This rescue was conducted under the Google Interventions Project (GIP) with training support from the International Justice Mission (IJM).
All content and images are the property of JVI © 2013.