2020 was a year like no other. India and Nepal, two places where JVI has a strong presence, went on lockdown in March due to the pandemic. With factories and other workplaces shut down, millions of migrant workers dealt with multiple hardships in the form of loss of income, food shortage, unemployment and uncertainty about their future. Traffickers exploited the situation by targeting desperate families. 
Despite the seismic disruption of the pandemic, men, women, and children were freed from forced labor slavery. Women and girls were rescued from sex trafficking. Brothels were closed and sealed. Perpetrators were held accountable. And survivors of exploitation received urgent relief to support sustained freedom, ensuring they remained on the road to an improved life.
During this unprecedented year, thanks to your generous support, the resilience, creativity, and dedication of our JVI staff and local partners, and God's grace, we brought new hope and freedom to thousands of individuals who previously suffered from human trafficking and other forms of extreme injustice.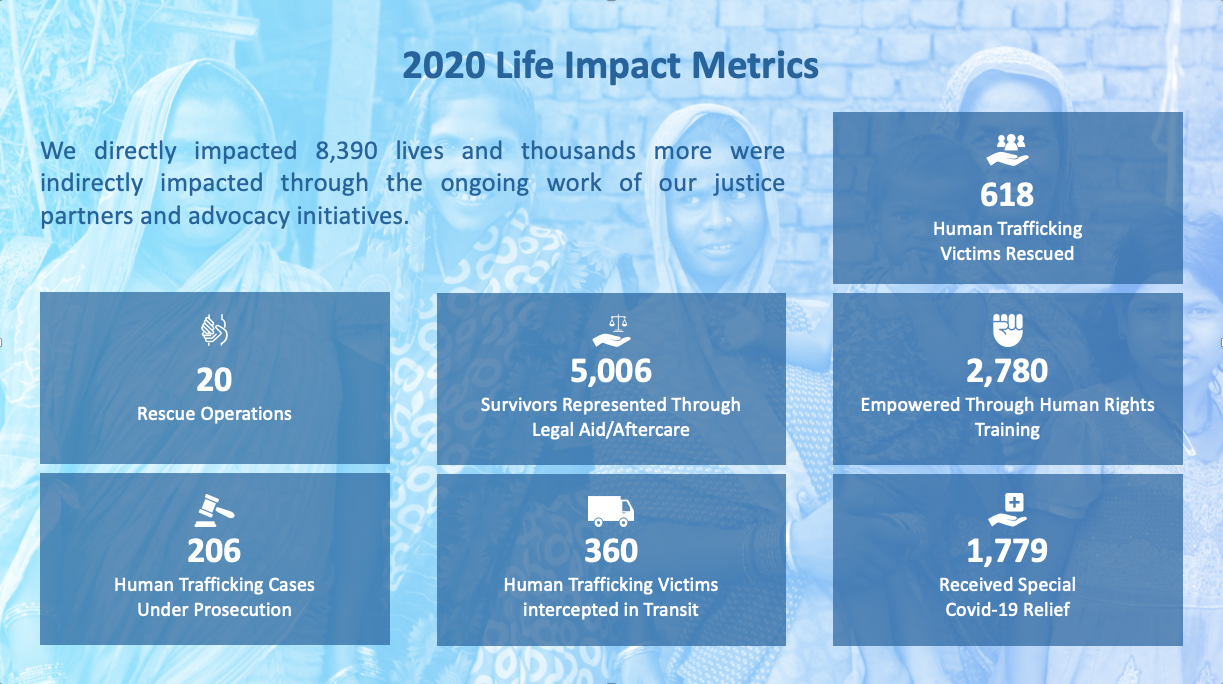 There is still much work to be done. There are massive livelihood issues resulting in an increase of multi-dimensional poverty, escalated by the pandemic and back to back natural disasters like cyclones in West Bengal and Maharashtra, locust attacks in central India and floods in Assam and Bihar. Following the COVID-19 lockdown, the demand for cheap labor has forced children into the hands of traffickers. 
Indian police said this desperation, demand for workers, and the reopening of state borders created the perfect environment for traffickers to exploit children. "Now post lockdown, factories are reopening and the migrant labor is returning (and) what we are seeing is that children are coming with them," said Shiv Narayan, the station police officer in Jaipur's Bhatta Basti neighborhood, which is home to many small-scale industries and bangle factories.
JVI and local partners serve on the front lines where the battle for justice rages daily. Our vision is to see unjust communities transformed into communities where human dignity and rights are respected by all. We believe that the work of justice is sustainable only if embraced and led by individuals in local communities where injustice occurs. 
With your support, prayers, and the diligent efforts of our local justice partners, JVI will continue to advocate for the poor and oppressed while fighting injustice at the systemic level.
We look forward to sharing new stories of freedom, justice and restoration with you in the weeks to come.