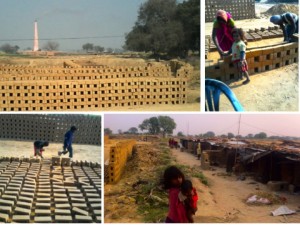 In early May, 184 bonded slaves, including a large number of children, were rescued from oppressive and abusive working conditions in a brick factory in Haryana, just outside of New Delhi. The victims were trafficked to the brick factory from various parts of rural India. They were forced to toil under the hot sun in 100+ temperatures for long hours, with few breaks for subsistence payments set well below India's minimum wage. Laborers that tried to leave the factory without permission were beaten.  Children were forced to work a alongside parents and entire families lived in small huts constructed from crumbling brick, dirt, and tin.
Justice Ventures International (JVI) working with its local justice partner, Mahila Haat, carefully documented this case over several months and then brought it before the National Human Rights Commission (NHRC) and local government authorities. The NHRC and other government officials promptly responded and, together with support from JVI and its justice partners, raided the brick factory and conducted an extensive inquiry lasting well into the night.  Overall, the NHRC documented and issued release certificates for 146 workers and freed 38 other children and infants who were living in the factory compound but were too young to work. JVI and its justice partners are now working closely with the NHRC to ensure that the families who were released receive the care and rehabilitation assistance required to help them transition to a new life of freedom. Please pray for the rehabilitation and sustained freedom of these men, women, and children.
*This rescue was conducted under the Google Interventions Project (GIP) with  support from the International Justice Mission (IJM).
All content and images are the property of JVI © 2014.