This article was published in the Hindustan Times on July 26, 2013. It is translated to English from Hindi.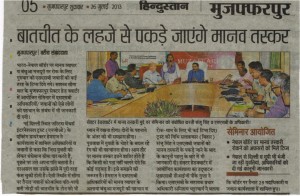 In order to end the India-Nepal border slave trade and bonded labor,  the Sashastra Seema Bal (SSB) received various tips on Thursday (July 25, 2013). The seminar in which SSB officials and forces received information on how to identify traffickers was held at the Armed Border Force,  Muzzafarpur sector headquarters
Hem Raj, [then] Acting Director, of the New Delhibased NGO, Justice Ventures International (JVI), told the participating officials and military personnel that a woman who is being traded across the border will often say that the trafficker is her husband. In reality she has been completely trapped by false promises. In these kind ofcases the border patrol forces mustpay attention to the nuances of the communication, the tone used, between these so- called 'husband' and 'wives', the difference between their styles of dressing even the way the way the woman's face may change color when questioned.
But it is critical to understand that  human traffickers are so smart that no one will suspect them of being up to anything underhand. Hem Raj has also provided many tips to SSB officials on how to recognize and control traffickers of bonded labor. JVI's legal onsultant (Bihar) Sanju Singh provided the SSB forces with information on how to enforce/initiate lawful action against human traffickers once they are caught.
The workshop was organized at the sector headquarters and was inaugurated by the P.K. Gupta, DIJ SSB.  Amitab Battacharya, Associate Public Officer SSB, said that 29 border deployed officers and personnel participated in the workshop.
[In summary]
Seminar organized to give board officials:
Tips on how tostop human trafficking on theNepal border
Legal know how to deal with women who sent from Nepal to Delhi and Uttar Pradesh.