JVI believes that the pursuit of justice is the shared responsibility of all those with the ability to help. Partnership is at the heart of our work. By partnering, we combine greater skills, innovation and cultural understanding to design justice solutions that work.
JVI's growing justice network consists of nonprofit organizations, businesses, and government officials. JVI equips and strengthens these organizations to fight injustice through human rights training, legal services, funding and access to other professionals.
JVI is currently piloting a new technology platform we are calling the e-Justice Resource Center to advance and scale the equipping arm of JVI.
The e-Justice Resource Center is a secure, cloud-based platform providing each user a unique login and password.
Through the e-Justice Resource Center, JVI's staff and local partners can access advocacy manuals, legal resources and receive holistic professional development training from subject matter experts.
The e-Justice Resource Center will increase rapid dissemination of information throughout our network of partners and allow JVI to expand the number of regions served.
"For a couple years, JVI has been discussing and evaluating ways to leverage technology to build justice networks. COVID-19 propelled JVI to make a decision on a specific platform to pilot the e-Justice Resource Center. We believe the e-Justice Resource Center will make a tremendous impact on our work and the work of our 70+ local partners by coming alongside and bolstering their effectiveness through quick access to needed resources."
– Jeff Pankratz, CEO
During the COVID-19 lockdown JVI's leadership in India and Nepal quickly began implementing various online training programs for staff and local partners. Multiple knowledge sharing sessions among JVI staff have been completed on topics such as: Criminal Justice System 101, Victim Compensation, Bonded Labour Rescue SOPs, Child Labour Laws in India, Court Craft, Role of a Public Prosecutor and more. The JVI Advocacy team has also been conducing online training programs with participants representing various NGOs and government agencies involved in fighting human trafficking including bonded labor vigilance committees, labor officials, and legal services authorities.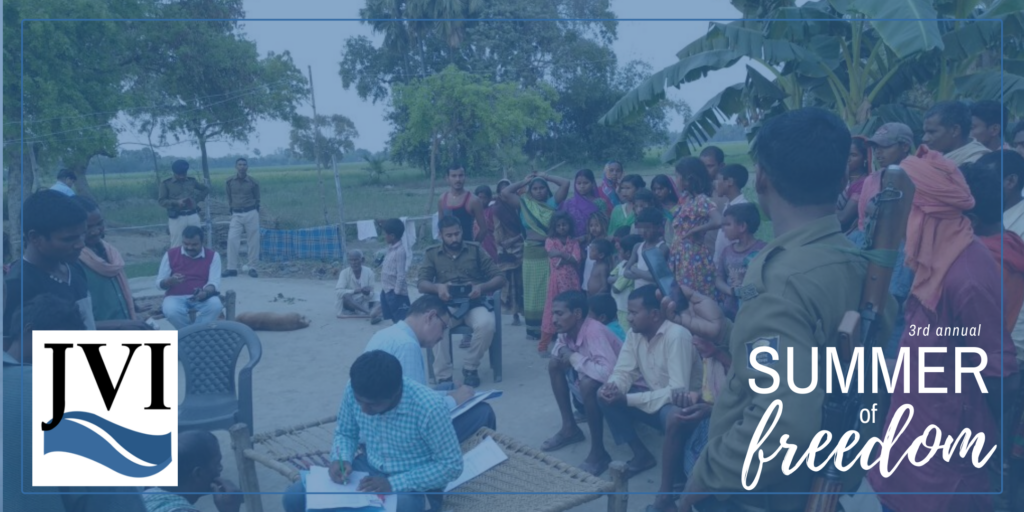 JVI is launching our 3rd Annual Summer of Freedom Matching Fundraising Challenge July 1 – August 31.
The COVID-19 pandemic has dramatically increased the vulnerability of the poor and marginalized in Asia to human trafficking and other extreme injustice. A few of our generous friends are joining together to pledge a matching challenge for this campaign! Stay tuned for more details.
In the meantime, please be praying about making a gift this summer to support JVI's work. Your giving will support the new e-Justice Resource Center and JVI's Justice Hubs to rescue hundreds, protect thousands and transform communities bringing sustained freedom for generations.